Roofings Group, Uganda's largest manufacturer of steel and plastics building materials is supporting the construction of the first non-profit contemporary art centre in Kampala. Roofings is donating high quality construction materials worth UGX 120 million. The centre is owned by 32o East, a non-profit organisation that focuses on the creation and exploration of contemporary art in Uganda.
The centre will be a permanent hub for the advancement of home-grown talent. It will provide artists with world-class facilities for their work. It will host dynamic programmes and exchanges with artists from various countries.
The art centre is designed to have a library, 6 artists' studios, a cafe and art shop, accommodation, and a gallery. The library will be a well-resourced learning centre and an extensive art library. It will also offer free computer and WI-FI access and an editing suite for digital artists, filmmakers, and sound designers.
The innovative ecological design of the art centre was created by New Makers Bureau. New Makers Bureau is a London-based RIBA Chartered Architecture Practice, making environmentally and socially conscious buildings for the common good.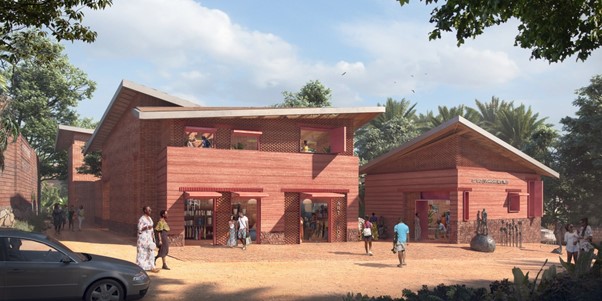 Since 2011, 32o East has hosted over 70 artists in residence and has hosted dynamic programmes and exchanges with Brazil, Colombia, Curacaos, Ethiopia, Germany, India, Indonesia, Kenya, Portugal, South Africa, Tanzania, The Netherlands, United Kingdom, United States of America, Vietnam, and Zambia.